Cleaner Water for your family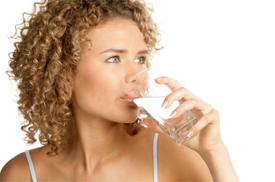 In our area, many households struggle with providing clean water for their families. Water Conditioning of Mississippi offers many different solutions for your family's fresh water needs. From our under-the-sink drinking water systems to our whole-house filters and softeners, Water Depot promises to provide you with an affordable solution to meet your family's needs.
Our coolers provide your family with an endless supply of hot or cold water. Each system comes with child proof locks to protect the little ones. With our bottle-less technology you won't be hauling bottles, waiting for your water to be delivered, or have to worry about storing all those bottles. We simply tap into a water source in your home and the cooler does the rest.
Great tasting water at your sink
Our Culligan Good Water Machine uses the reverse osmosis (RO) filtration method to improve the taste and odor of your drinking water and reduces microscopic impurities. With RO, water passes through an ultra-thin, semi-permeable membrane, which filters unwanted particles, such as sodium and lead. Installed with each system is a separate faucet that delivers delicious water at the touch of a finger. You do not have to limit yourself to just drinking the water. Use it for cooking and in a variety of other culinary ways to give you and your family:
better-tasting coffee, tea and juices
more flavorful soups, sauces and pasta
richer baby formula
clearer ice cubes
crisper fruits and vegetables
---
Improving the water quality throughout your home
A Culligan Gold Series Softener conditions the water as soon as it enters your home and delivers soft Culligan water throughout the entire house. Improving the quality of your home's water can have a positive impact on all the ways you use it, from your kitchen and laundry room to your bath. From spending too much on laundry detergents and softening agents to constantly battling dry skin and dull, lifeless hair, you need the ultimate solution to your hard water problems: The Culligan Gold Series Softener.

Once you experience life with a Culligan water softener, you will wonder how you ever lived without it. The soft, treated, conditioned water you get from a Culligan water softener will make life easier all around your house. With soft, Culligan water you will notice a dramatic difference everywhere you use water:
Tubs, showers and shower doors are no longer covered in soap scum
Sinks and faucets are cleaner with little or no scale buildup
Keeping your house clean is easier, and takes much less time and effort
Clothes are cleaner and brighter
Clothes, linens and towels are much softer to the touch
Skin is smoother and hair is silkier and bouncier
Appliances work more efficiently and last longer
Rust and dirty water stains are virtually eliminated
Pipes are clearer with less corrosive elements and free of scale buildup
Your entire home uses less detergent and soap, saving you money and helping the environment


Trust the Water Experts
Water Conditioning of Mississippi provides ONSITE water analysis for our business customers, too. Call us today to learn more about the benefits of Culligan POU coolers.

Give us a call today at 662-842-1072 for product information, and to learn more about how we can be of benefit to your employees and guests.